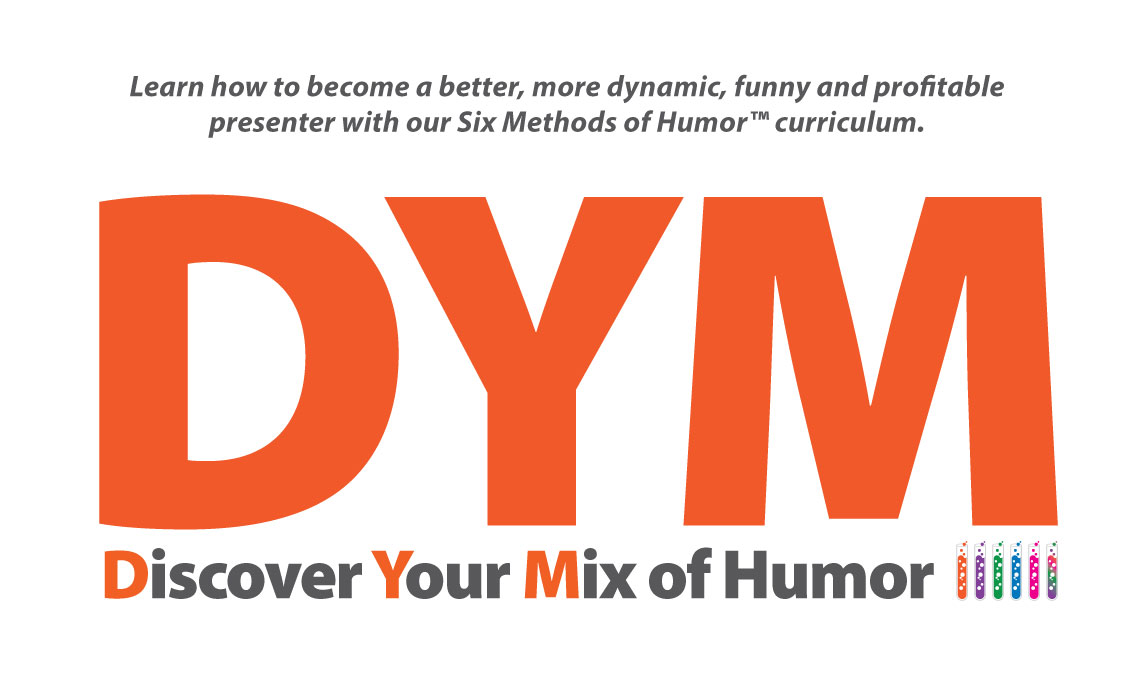 Our 6-week series is simple a ton of fun, and we are looking to launch another DYM Workshop in October! Interested?, send us a REQUEST and we'll make sure to add you to the list! 
Aside from the countless years all these lessons and methods were stuck in our collective brains, we're incredibly proud that – while it took almost 8 years to do so – we've created our DYM Workshops with extensive curriculum that focuses on "The Six Methods of Humor™"
Every one of our Workshops dives deep into each of our 6 methods with educational sessions, specific improvisational exercises, and opportunities to speak in front of one's fellow attendees.
Our Workshops are 6 weeks long. Wow. You did just read that right! It's a true commitment, but we're amazed at how many of our previous attendees not only aren't phased by the time, but love the workshops so much, they're mad when they end! Graduates come out of these sessions with not only an understanding on where their strengths are with humor, but all want more!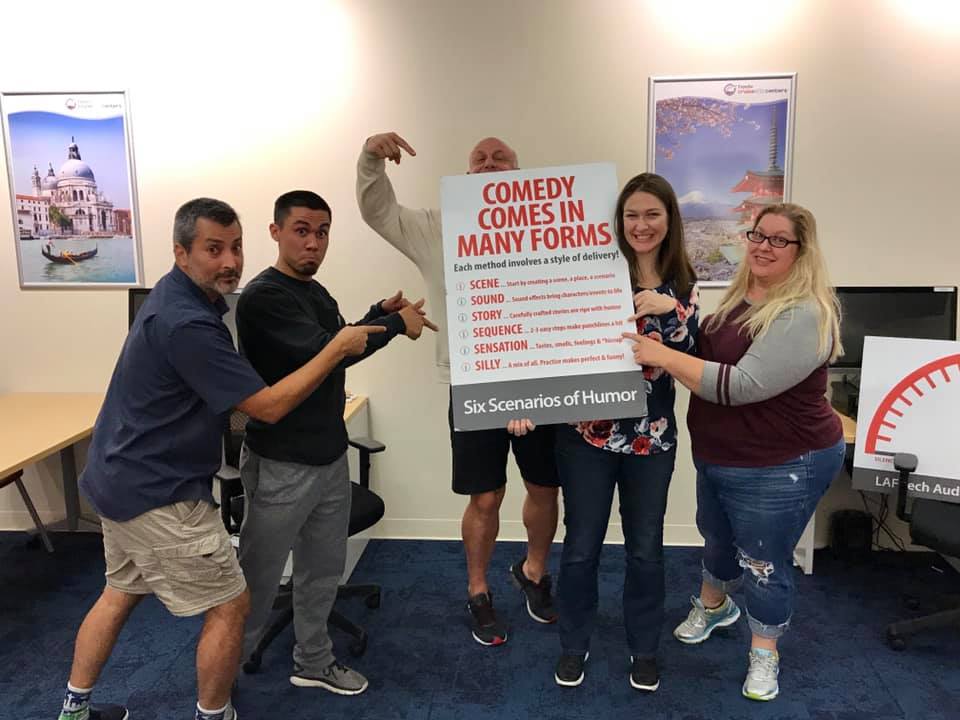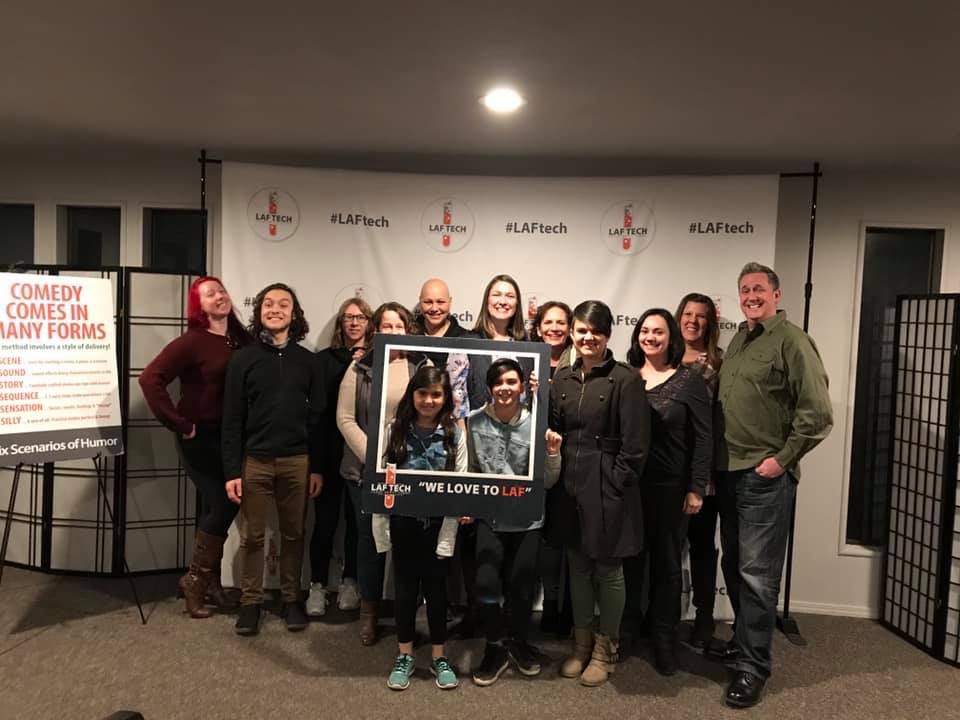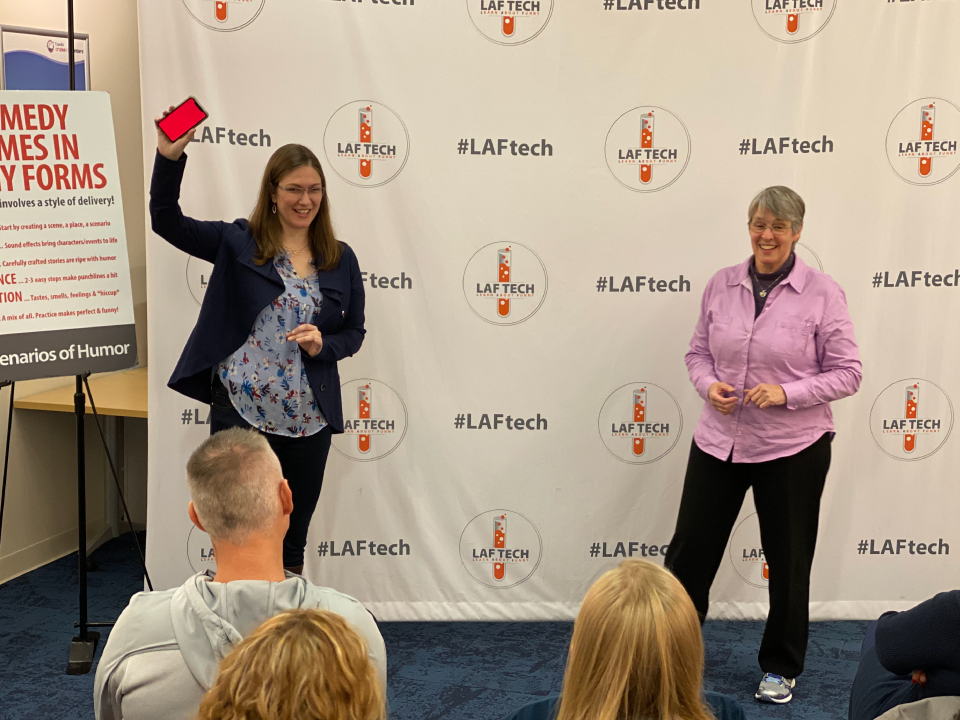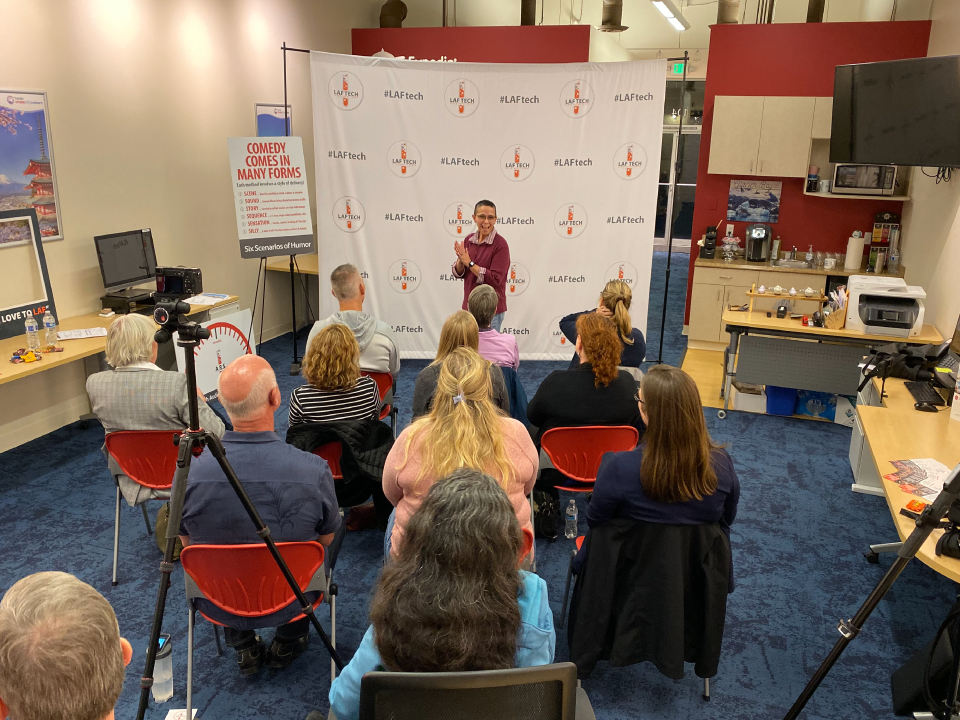 LAF Tech DYM – Discover Your Mix Humor Workshop
COMING BACK IN Q1, 2024!
We're back with our re-tooled DYM Workshop! Formerly our Mini 101 series, we've made some changes to make the sessions even more engaging, more fun, and more interactive! Our 6 week series is comprised of six 2-hour sessions + a new wrap up that involves recording a series of video shorts that you can use for your business or just fun! (drop-ins welcome! you can attend any one of our 6 workshops in this series!)
Any level of experience is welcome! We will gladly work with a novice, up to an experienced speaker. All ages are welcome! (and yes, we've helped children & teens in our workshops that want to find and develop their mix of humor!)
Entire Workshop:
https://www.paypal.me/LAFTechLLC/595
Single Workshop:
https://www.paypal.me/LAFTechLLC/85
Frequently Asked Questions
How much do DYM workshops cost?
Our upcoming Q1, 2024 workshop has an initial offer for the 6-week series of $595 (valid until Dec 30, 2023) then returning to $695. Consistent attendance, while not required, is highly recommended so you can complete the curriculum and end up with a fantastic humor-resource guide we're confident you'll cherish! Anyone may attend one-off workshops during its duration for a flat $95 per 2-hour session. During any of the 6 sessions, attendees will receive handouts equivalent to one of our "Six Methods of Humor™" curriculum, which are filled with our fantastic tools and exercises to continue to utilize and practice! 
How many Workshops are happening right now?
Normally, there's at least one, DYM series running per quarter. Demand drive Workshops though! Check back here regularly. We'll provide information on a continual basis regarding current or upcoming New DYM Workshops. It's also recommended you "Like" our FB Business Page where our Events Page will also be updated regularly.
Guess what? We really, 
really 

want to hear from you.
We absolutely are happier than a 5-year old in a roomful of kittens that you've landed here. We'd love to connect and answer questions you may have, or discuss which one of our LAF Tech programs are best for your business.
However, we also super love our weekends. So, if you reach out on a Friday or the weekend, please allow us our quality and/or family time. We'll respond the following Monday! Thank you again for connecting with LAF Tech. We look forward to LAF'ing with you!