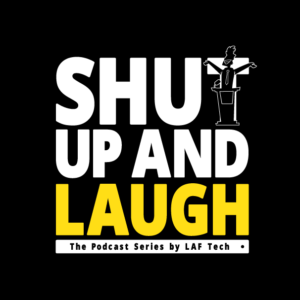 Welcome to THE SHUT UP & LAUGH PODCAST
WHY YOU SHOULD BE LISTENING
Brian has hosted Shut Up & Laugh since October of 2019. The series exists to showcase amazing people with amazing stories through the power of laughter and resiliency!
He doesn't just focus on trying to get only big names on the microphone; but every day business owners, employees, and sometimes young adults who have something worth listening to. Either way, they all "don't know when to expect" when the "On The Air" signage lights up.
These broadcasts are 100% improvisational. No one knows what questions they're going to answer, and the conversations freely flow from serious, to heartfelt, to hilarious.
Expect twists and turns around every corner. Interviewees also bring stories of their own when laughter has sometimes even saved their life or brought them back from the brink.
Other times, people just have a message to share, a experience that's moving and important, and occasionally they just need to rant, but the underlining message of the "power of laughter" is always present.
No matter what, you'll realize along with our growing guests and listenership; that sometimes you just to take a moment, sit back, and Shut Up & Laugh…  
Meet Your Podcast
Host

, Brian Trendler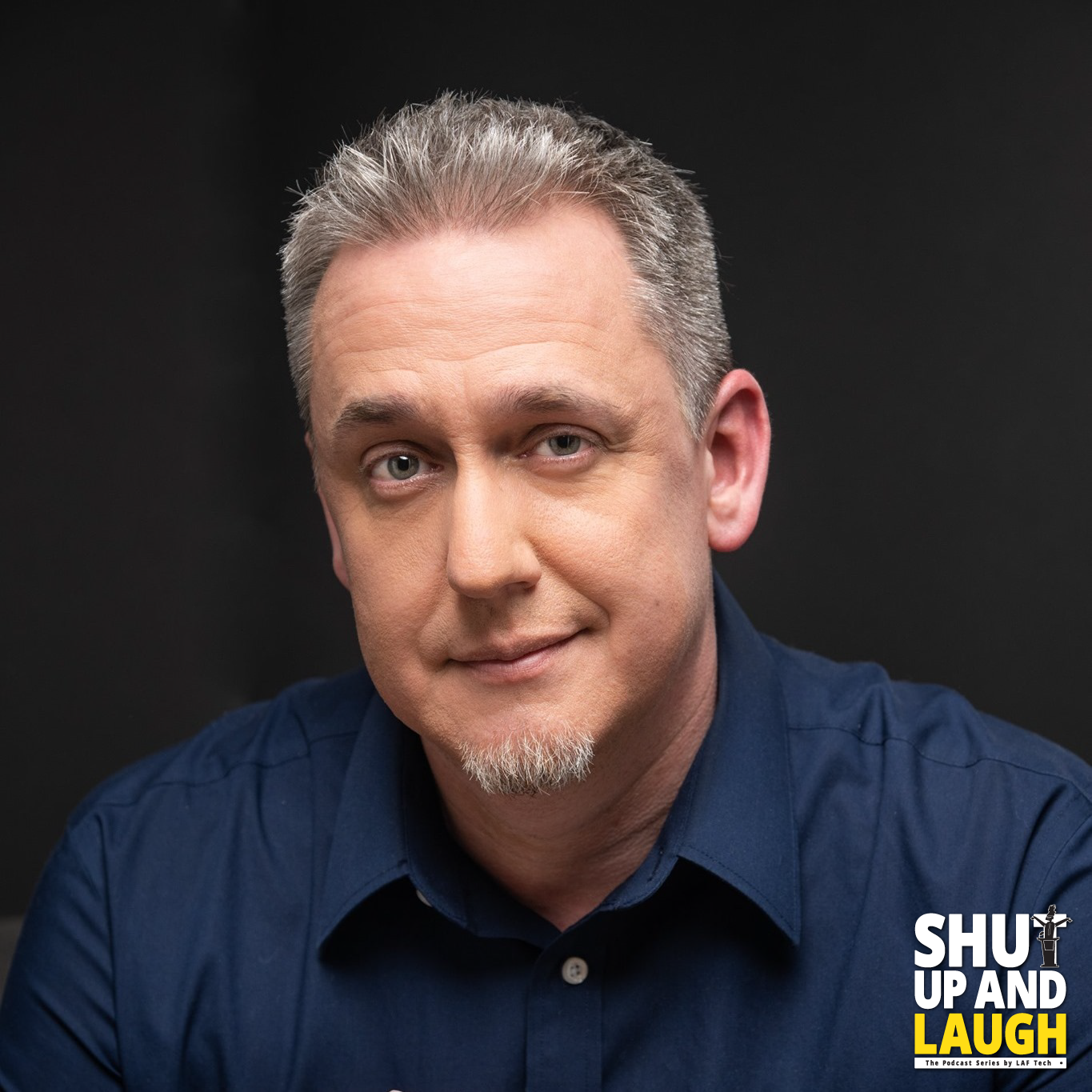 Brian Trendler, Podcast Host
Podcaster, Public Speaker, Engagement Specialist, Father, Serial Business Networker, and a Blunt Force Object; Brian has truly enjoyed this platform since October, 2019 when he launched his first episode. He's spent his entire career ranging from technology, sales, management, entrepreneur/business owner, and now a "good listener" as strives to encourage folks to share their stories on Shut Up & Laugh.
The goal? For at least one person to take something away each time they listen to an episode. Why? Because being an adult is hard. No matter what books tell us, coaches, or one's own support structure, it's hard sometimes to relate to real-world scenarios to what a person is actually experiencing. Plus, add a dose of humor and laughter and voilá, it's the perfect recipe to learn from. 
His other company, LAF Tech, is an Engagement Training company in the Pacific Northwest. Over the past 6 years, they've trained all skill-ranges of Speakers and Presenters to become more successful, profitable, and memorable by using humor. They offer weekly Mini Workshops, Corporate Trainings, Private Coaching sessions & all are 100% ZOOM based currently!
Where you can
find

the Podcast.
The Shut Up and Laugh Podcasts call Anchor.fm their home.
However, Anchor syndicates the series automatically through the following locations for your listening / streaming or downloading pleasure: Apple Podcasts, Breaker, Google, Overcast, Radio Public, and Spotify.
New episodes normally air once a week, and are available each Thursday AM.
What do the Interviewees discuss on each episode?
We spend a lot of time looking for interesting people that we think have stories to tell. Brian then works with them to connect, and discuss ahead of times what "can be discussed" and what is essentially "off limits" depending on the subject matter. With this being said, these episodes are 100% improvisational. We create the questions ahead of time, but do not give the interviewees any knowledge ahead of time where the conversation will go. This creates a fun, on the edge experience, and the laughter is often brought out by sheer nervousness of not knowing what's next. Most of the talks are based on fun, laughter, and support of the stories being told. We never target a person's beliefs, politics or character. That would be an absolute reversal as to what our Podcast stands for.
What sort of listening environment can I expect on each episode?
Great question. Please always check your streaming podcast or download sources "Rating system" before you listen. We say this only because a few of the episodes do have some explicit language; however, it's nothing raunchy or out of place. Our talks are normally fun, fast-paced, and we strive to create an incredibly safe and protected environment where our guests can go as deep as they need to regarding their answers and subject matter, or simply skim across those surfaces.  
Do I have a story? Can I be part of the Shut Up and Laugh Podcast series?
OMGoodness yes! If you're even reading this, you're likely a candidate that Brian may want on this show. With the basis or "theme" of the podcasts being the power of laughter, and the #humorheals mentality, if you've been through traumatic events, are going through one, or have a message to share about overcoming adversity with your own style of humor, we'd like to consider you. All current interviews due to the Covid-19 Pandemic are being held via ZOOM, and the podcast and simultaneous Video release are being syndicated each week. If this still seems like something you'd want to pursue, see below!  
CHECK OUT OUR AMAZING SPONSORS OF THE ShUT Up & Laugh PODCAST SERIES!
I make it a point each episode to show gratitude to my amazing sponsors who have chosen to give any amount to my growing podcast and in turn, listenership.
I'm extremely thankful for their willingness to support my vision, and can only hope that everyone who swings through this web page would consider visiting their websites and reaching out to them if there's a need and match to the incredible products and/or services they offer! 
If you would like to be part of our growing sponsors, and want a chance to a customizable advertisement read each month on the podcasts, as well as shout-outs on social media and more, please connect with us. How,? Well glad you asked!
You can visit our home page on Anchor and click the Support link, or reach out at INFO@LAFTECHNW.COM to discuss our other Sponsor packages that even include a customized video advertisement that would be included on Zoom Recordings of our Episodes in 2021! Reach out today to reserve your spot! 
SUBMIT YOUR NAME TO BE

CONSIDERED

 FOR AN EPISODE.
Please fill out your basic information and a short summation of what you'd like to discuss in the "Message" field if you'd like to be considered for a Shut Up & Laugh Episode recording.
Please note that, if chosen, you must agree to a 60 minute recording session, and both Audio and Video will be owned soley by the Shut Up & Laugh Podcast series and LAF Tech NW. You will, however have full rights to share and broadcast the episode through your own network connections.
All guests receive a small media kit and a thank you gift as well to help spread the word about your broadcast. Still interested?, please finish up all fields and click SEND!